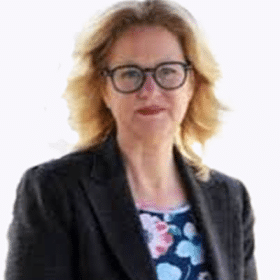 Director of External Relations
Patricia Ewing is a business development professional who transforms businesses and organizations to help them thrive. She leads Ewing Energy, a clean energy and decarbonization consultancy that builds sustainable communities. Her considerable expertise in green energy, finance, infrastructure, and transportation spans decades. Ewing supports projects with financing and partners, conceptualizing and implementing a business plan, supporting public and non-profit entities to complete infrastructure projects successfully. She is a known consensus builder and works to establish a collaborative environment with clients to bring projects to successful fruition. She works with existing infrastructure or new, including renewable energy, including microgrids, traditional Infrastructure, smart Infrastructure, utilities, transportation, including electric highways, EV charging, electric fleet conversion, rail, broadband, waste to energy. 
Ewing is the former Deputy Chief of Staff to Vice President Al Gore. During her tenure in the White House, she oversaw the policy and communications, managing many signature programs that supported Gore's vision for a healthier planet.  Earlier in her career, Patricia managed political campaigns across the country from California and Oregon to New York State. She also was the Senior Advisor to the Chair at the Democratic National Committee and Political Director to New York Gov. Mario Cuomo. 
Patricia has also owned a prominent, award-winning, national advertising and marketing firm where she created cutting edge integrated programs with video, print and, online strategies. Her clients included Presidents, Federal elected officials, state elected officials, corporation, and public policy advocates. She started her career creating advertising campaigns for DDB-Needham Worldwide where she managed the national multi-million-dollar client Show Time and the Movie Channel.